Anal sex is completely normal & everyone is engaging in it & enjoying it. The issue about anal is the myths around it and this can make things confusing most times.
If  you are interested in trying out anal sex, this guide will help you prepare yourself for a pleasurable anal experience.
Getting yourself ready for anal sex
The first thing to do before engaging in anal sex is to prepare yourself both physically and mentally. This is to make sure that your anal sex experience is both pleasurable and memorable. Here is what you can do to prepare yourself for your first anal sex.
DOUCHING
Douching is not necessarily compulsory, but it can ensure that your rectum is as empty as possible. This process is the act of flushing out the rectum with water, it helps increase the chances of a mess free intercourse,
To douche, simply fill a small bulb with warm water, insert the tip of the bulb into your anus and squeeze it gently to allow the water enter. Let the water rest in your rectum for a few seconds, and then pass it out into the toilet. Make sure to repeat the process until the water turns clear.
If you have the time to prepare, douche at least 30 minutes prior to the time of intercourse to ensure there is no leftover water since your rectum has several twists, turns and folds the water must run through.
Note, this process is not entirely necessary.
DILATING
Dilating helps alert your body of what's to come, the sphincter (muscle in the anal opening) is used to being closed most of the time. It is advisable to dilate so that you can warm up and relax the sphincter muscle.
To dilate, apply a generous amount of lube to your hole as well as your DILATOR or  ANAL PLUG of a manageable size and insert it into your anus for roughly five seconds.
Remove it and gently repeat the process till you feel you are free and relaxed enough. Another viable option is to insert and wear the toy around for a while.
Although this may not exercise your sphincter the same way that active play with a toy does.
How to enjoy anal sex
Now that you have gotten yourself ready for anal sex, you cannot just shove a penis into your anus and expect it to be all good. There are a few important things you should take note of.
Foreplay is not just important but it is also necessary. You need to be as relaxed as possible for your sphincter to let a penis in. It is vital to have good amount of stimulation before anal sex.
You can also tip it off by stimulating the vagina and inserting a finger or ANAL PLUG into the anus.
The anus does not naturally lubricate itself so you need a lubricant. Always use a water based LUBRICANT and apply it enough so that the anus is not injured.
Remember to insert the penis slowly until you are comfortable enough before increasing pace. Conversation between partners is vital so that the giving partner and receiving partner are both on thesame page.
Best Positions For Anal Sex
Cowgirl/ Reverse Cowgirl
Cowgirl position is a great position for beginners.
The receiving partner is on top so this helps the sphincter muscle to flex and relax even more. Also the receiving partner has more control of the entrance, depth and speed at which the penis is entering.
It is also easier to remove the penis in case it hurts and the insert it back slowly in a more comfortable manner. Once full thrusting is achieved, the receiving partner can lean front, back or sideways to find their sweetspot for a pleasurable experience.
Doggy
Doggy is another great sex position for first timers. The giving partner kneels down while the receiving partner bends with the genitals facing the giving partner.
This sex position gives both the giving and receiving partner equal control. Both partners can adjust themselves until they are comfortable enough.
It also allows the receiving partner to stimulate her genitals which will make the whole process more pleasurable.
Chair straddle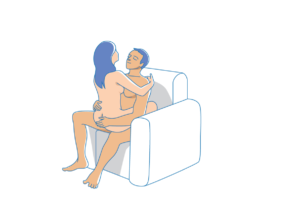 This position allows for incredible intimacy that combines the face-to-face contact of Missionary with the take-charge advantage of receiving partner on top.
In this position the giving partner sits down and the receiving partner sits on their lap, facing toward or away from them, whichever is your preference.
This position allows for complete mobility of the hips and, if the receiving partner is tall enough, they can use their legs to move up and down on the penis at a depth and pace they're comfortable with. It also offers access to the genitals for a well-rounded access for stimulation.
Tucked missionary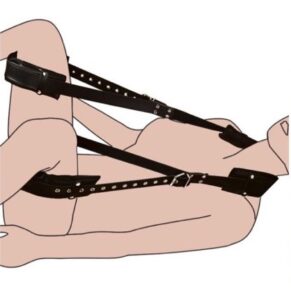 Click here for THIGH SLING to allow deeper penetration
Missionary is beneficial for anal sex because both partners are facing one another, giving allowance for both verbal and non-verbal cues.
You'll be able to observe whether the receiving partner is enjoying it, if they are uncomfortable, or if they're unsure of what they are feeling.
Another thing that makes it beneficial for beginners is that when you lift your knees towards your chest, your body is more open, making things more comfortable for the receiving partner, while offering better access for the giving partner.
It is also helpful to place a pillow under the butt to evevate the body so that the giving partner can have easier entrance.
Spooning position
Here, the receiving partner is the little spoon and the giving partner is the big spoon. Both partners lay on their sides, allowing for close contact and intimacy.
To make entry easier, the receiving partner should place their leg on a pillow, bending their upper leg at the knee and hip.
What makes this position beneficial for beginners is that it allows both partners to take charge by moving their hips forward and backwards when they need to.
It is also a position that allows the receiving partner to freely play with their genitals, either manually or with a vibrator.
Conclusion
It is very important to note that vaginal sex is not the only way to orgasm. Infact more women orgasm out of anal sex more than during vaginal sex.
Wondering where to get the right products and toys for anal sex? Visit MYSP Shop and select the ones that best suit you.