May our good God bless my man, this man is everything and even much more I've ever prayed for in a man.
Before I met my man, I was really self conscious & had this need to always appear perfect in life, so truth was I never really enjoyed life or intimate relationships. I'm a chubby girl so I've always had some doubts about my body & I never allowed myself to truly enjoy my body.
I used to touch myself in the dark under my sheets while intently watching other people fuck on my phone & wish the girl was me but still feel guilty I was doing it.
When I met my man, I was just moving easy through life & didn't want anyone clouding my space but that man & his sweet doings brought my guard down & really found a way to get to me.
This man came into my life & changed the perspective for me. It's incredible how a person comes into your life, lifts your spirits up and then you see yourself in a very different light.
Our bedroom game is soooo amazing and there's always this rock-solid lust between the two of us. I love how round & ample my boobs feels in his hands, when he sucks on them & does that little brush he does with this teeth, that's all the motivation my coochie needs to be well lubricated.
I am always willing to do anything for his oral session  & seeing the way his head gets lost when he's in between my thighs using his tongue to play with my coochie is so beautiful, then the way he comes up & presses his weight on my body.
The sweet way he calls me Nefertiti or when he says good girl & still goes on to kiss me hard with that same mouth he used to eat my coochie. Ahh, those moments are always so perfect. The intensity with which we fuck & the different moods we do it makes it never tiring.
But life  happens & my babe had to JAPA for his masters degree. We always talked about it & walked through the process together but when he finally did leave, it was hard for me, really hard.
The week after he left Naija, we tried to keep in touch as often as we could but it was almost impossible as he was always busy & still trying to settle down. Few months passed by & I accepted our new normal but there was this lingering feeling of a missing piece of my heart & emptiness my coochie felt.
Today was just a normal day for me in the office— when I received a WhatsApp message from him saying I'd receive a properly wrapped package, I'm not supposed to open in public & it's from MyspNigeria. Shortly after the text came in, I got a call from a dispatch rider who handed me the package….Interesting.
When I got home, I threw aside my laptop and took off my tight work trousers and heels, I was left in just my panties & top then I settled in to unwrap the package. It was the flamingo vibrator. When I brought out my phone to text him, I saw his text, 
"I might not be there but I will still be the one to take care of you & you better not mess around because I have my ways of knowing everything you do." Something about this package just made my coochie twitch & I replied his message immediately, "Yes Sir, I will always be yours & I'd never dare to mess around."
I clicked sent & immediately, he replied & said "just chill, go shower, eat & prepare to act real nasty tonight. And that is exactly what I did, I took a quick bath, then I took my time to savor the rice I bought on my way home & then I wore a see through night dress I own & got into bed. I picked up my phone, started typing & immediately his audio call came in, he asked me to wear my AirPods so my hands can be free as we talk.
He directed me on how to download the magic motion app which I did & even when he was countries away, he could control the vibrator.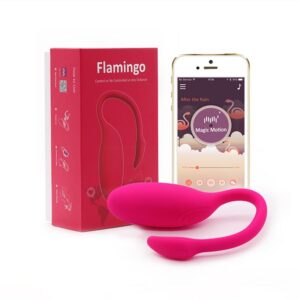 Click here to buy flamingo vibe
Curious as to where this night was headed, I had to throw him some bait, and bite he did.
Then his sweet talking started "I want to lick your coochie till your legs start to shake then while its all nice & wet I'll slide my big chocolate 'pipe' inside of you just how u like it till you start making those funny faces & the whole room smells like se+. Do you know how bad I've been craving you and how much I want to slide inside your wet coochie, that coochie I love so much, hmm baby, talk to Daddy."
I could hear the raw lust in his voice & I could feel my wetness rolling to my a$$ crack, I was that wet & my voice became too thick, I just couldn't talk. "I don't know what to say," was all I could manage to say cause right now I just needed release & I really want to touch myself.
The vibe on my hand started buzzing & he asked me to rub it around my wetness slowly, which I happily did.
After a few seconds, he asked me to place it at the entrance of my vagina & the vibration increased & the next thing was me slowly inserting it inside myself, even without been told then I heard his voice over my AirPods.
Just like that, just imagine it's my black dick sliding in like that which I did & then placed the other end of the flamingo on my clit. I closed my eyes & allowed his voice & the different v!brations he was setting the vibe on consume me.
The only thing I could muster was the 'Hmmmms' that we're coming out freely from my mouth, the pressure on my clit & the sweet feeling inside my vagina made me scream I'm cumming in a very short time & he's soothing voice of "cum for me baby" just allowed me give myself to the moment &
& I had a really strong orgasm that caused my knee to spasm down to my little toe. My heavy breathing followed & I totally forgot I was on a call, then I heard his voice, "with how deep you are breathing, you really enjoyed it yeah?"
"I loved it" was what I screamed back. "Yeah, that's how it's going to be from now"
I look forward to this experience, it's not the real deal but it gets the job done…..*Winks*