How Delay Sprays Work

If you always or nearly ejaculate sooner than you wish to or you are not capable of delaying your ejaculation during sex at all or for most times, you do not have to feel frustrated about this as there are delay sprays that works to help you slow down the race.
What are delay sprays?
Delay sprays or premature ejaculation sprays are used to lessen the sensitivity in the most sensitive areas of a man's penis to help delay ejaculation. They are made of desensitizing components, that helps reduce hypersensitivity of your penis and in turn solves the issue of premature ejaculation in bed.
How To Use Delay Sprays
Delay sprays are applied directly to the frenulum and the underside of the head and shaft of the penis and it is advisable to not use it in excess to make your body feel uncomfortable. Now, let's look at a step by step guide on how to use.
1. Apply the spray
Use the spray when you're flaccid or erect, your choice as it does not affect erection.

Gently shake the bottle before use.

Hold the application nozzle close to head or the underside of the shaft.

Push the spray mechanism firmly to release a full spray

Depending on your sensitivity level, two or three sprays is perfectly fine to get the job done.

Use a fingertip or two to rub it in a circular motion until you don't feel any wetness and it's absorbed into the skin.
2. The little wait
Give yourself and the spray ten minutes to be properly absorbed into your skin and for it to kick in. You don't want a situation where you ejaculate before the spray gets a chance to do it's work. This little wait is in fact a perfect time to engage in foreplay.
3. Enjoy your moment
You'll know it's all good by the way your penis feels, most delay sprays are non-transferable so be rest assured it won't pass onto your partner. If oral sex is going to be part of your sexual activities, it is advisable to wash off the delay spray before so your partner doesn't feel uncomfortable with performing oral.
Certain Mistakes To Avoid When Using Delay Sprays
1. 

Don't use too much
Start with the minimum number of recommended sprays and work your way up; using too much can make you lose feeling until the product wears off.
2. Do not use too little either
Using too little is not using enough, start with the minimum of 2 sprays and you can always add a few sprays if sensitivity levels don't seem low enough that you could hold back ejaculation.
3. Not giving your body enough time to absorb the spray
Every delay spray is going to have a different timing, be sure to check for instructions so you see how long to make it kick in else you'd burst before you give the spray time to work.
4. Apply to the right parts of the penis
We're talking about frenulum, the underside of the head and the shaft of the penis.
5. It is not advisable for use if your partner is pregnant
The active ingredients used to make delay sprays have not been established to be safe to use during pregnancy.
Delays Sprays We Highly Recommend
1. Dooz ejaculation delay spray with Vitamin E
This is the only spray in the world with added Vitamin E which nourishes and activates the cells of the penis. As the vitamin is a natural one, it is very easily absorbed to stimulate and increase the cells' energy to go on multiple rounds.
2. Procomil spray
Click here to buy procomil spray
This spray works after 5 minutes and you should be able to have oral sex with your partner without her even realizing that you're wearing anything as this spray has no taste, smell or greasy feel. It contains up to 200 applications and it's very fast acting.
3. Stud 100 delay spray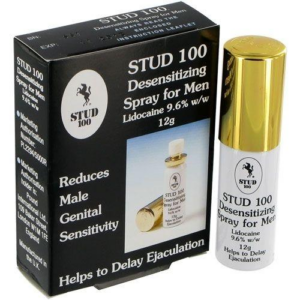 Click here to buy stud 100 delay spray
This delay spray contains an active ingredient, lidocaine of up to 9.6% which is a mild anesthetic. It comes in a metered pump spray which contains around 120 sprays. It is non-toxic, odourless and ozone-friendly, also, it is quick acting. A range of 3-8 sprays is recommended to get the job done.
Please note:
Delay sprays are safe and effective ways to control quick ejaculation in bed. They are used externally on the penis and if used correctly, they make Sex long lasting and more enjoyable for both partners.